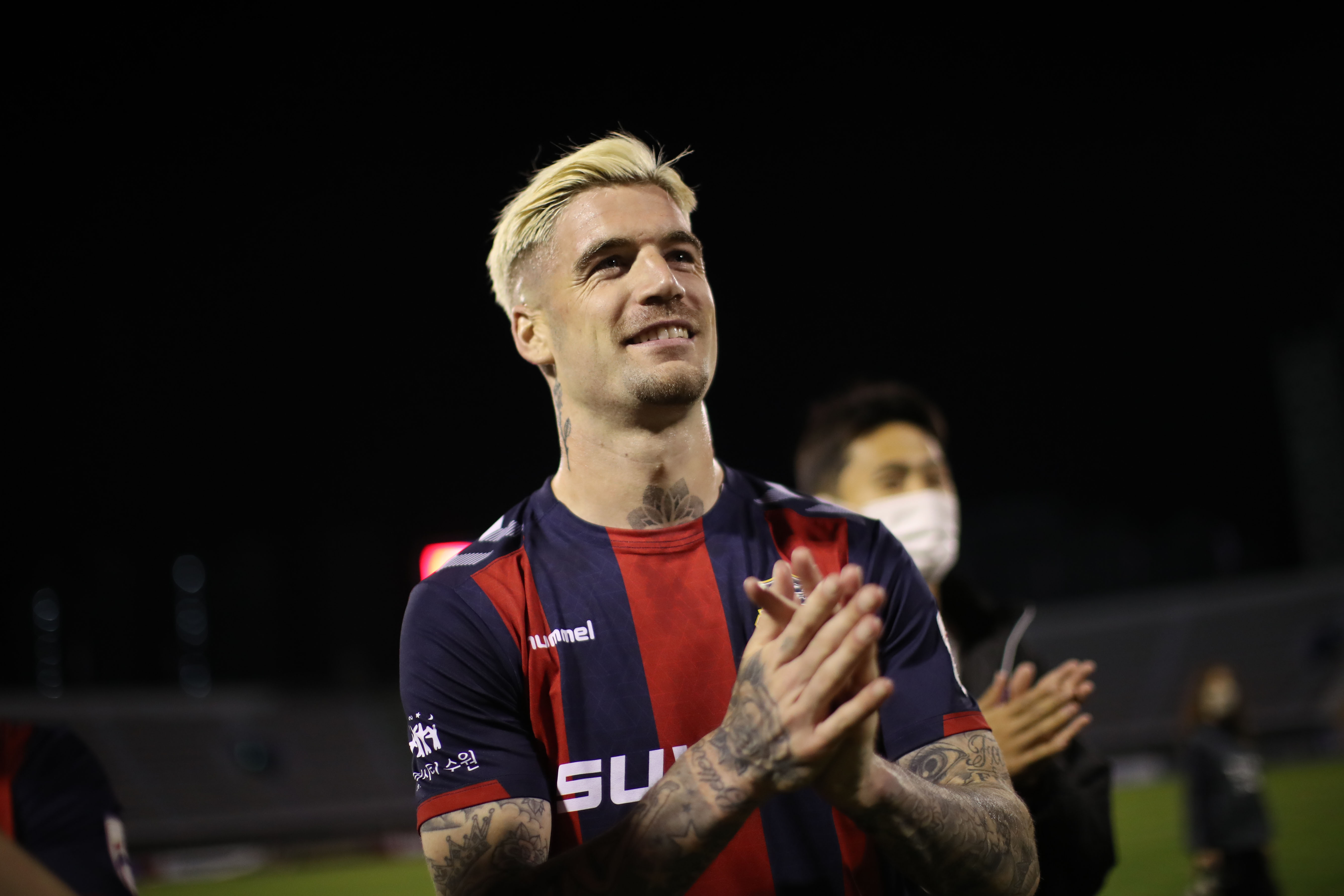 Promoted from the second-tier at the end of last season, Suwon FC have become one of the most eye-catching sides in K League 1 this year and one of the more prominent attacking outfits in the division at present. Spearheading their frontline is South African international Lars Veldwijk, scoring thirteen for the season so far and leading the league's scoring charts. Speaking to KLeague.com, Lars talks about life at Suwon, playing under manager Kim Do-kyun, and the mental aspects of overcoming serious injury.
One week on from Suwon FC's memorable 5-2 victory over Asian Champions Ulsan Hyundai and a 2-1 win over rivals Suwon Samsung Bluewings in the Suwon Derby, Lars Veldwijk is in some of his best form since arriving in Korea at the start of last year. Not only that, having only been promoted to K League 1 at the end of 2020, his side find themselves as one of the more formidable teams to face at present and his own name overtaking the likes of Joo Min-kyu and Stanislav Iljutcenko to reign in the race for the Golden Boot. Talking with
K League United
's Head of Editorial
Matthew Binns
, Lars is keen to discuss his incredible 12 months with the club and the transformation in both the side and him as a player.
Matthew Binns: Last time we spoke you had just moved to Suwon and you weren't too familiar with things there in the city. One year later. How is the city and are you enjoying living in Suwon?
Lars Veldwijk: Yeah, it's by far the best place I've been in Korea. Maybe not like for a holiday but to live in. Suwon is a great city. I live in a new area where you have many foreign restaurants and yeah, if you want to go to Seoul it's not so far and it's a little bit in the middle of Korea. So yeah, I really enjoy the city.
MB: You've also not got a lot to complain about on the pitch. You've been promoted from K League 2, the team is in the top half of K League 1 at the moment and you're top of the scoring charts! It looks like life at the club is going well. Is that a fair assessment?
LV: Yeah, that's it exactly! I joined Suwon when they are in K2 [K League 2]. I was in a moment then struggling with a small injury. So yeah, I finished the season quite well. In K2 we got the promotion. That was the target of the club. So we made it and yeah, we had a little bit of a tough start in K League 1. But the last two to three months we find our way and we find the good combination and the right formation. Now we are a dangerous team in the K1.
MB: Dangerous seems to be an understatement because I don't think we could bury the headline any longer and the headline is that your side's last match finished Ulsan Hyundai 2-5 Suwon FC. That's Asian Champions Ulsan. It's not exactly a small feat. So Lars, where do we start? Do we start with your four goals or the assist?
LV: Yeah, no, let's start with the assist! [Laughs] That is what I mean; we are a dangerous team. I think teams will be scared to play against us now. We are looking very sharp. We are looking very good. We have different kinds of playing styles. We can play long balls, but we are also very good in a possession game. In the beginning, we conceded too many goals. But now, with a new coach we signed, the defence is looking better and we get used to each other and it's not strange. We had a lot of new signings. So yeah, it took some time but now we do very well.
MB: I was particularly impressed in that match because you were one-nil down to Ulsan and Ulsan are one of the title challengers this season, possibly the favourites for the title and you're one-nil down. You are then four-one up by halftime? It must have made the manager's team talk easier.
LV: Yeah, this is it exactly! The good thing about our team, we went down one but we showed a great mentality in the first half. We didn't give up like normally. You know, when you play Ulsan away and you, you don't want to give them the goal first because you know that this is gonna be a tough game but we kept focused. We did well and, yeah, of course, we were a bit lucky because every ball went in the last game but it shows our qualities even against Pohang we were three-nil down and we come back to three-three. So yeah that shows the mentality we have at the moment and the real belief that we have in a team and in everyone.
MB: And that mentality also showed just a few days before that match as well because it's safe to say Suwon is now red and blue rather than being red, white and blue as Suwon FC overcame Suwon Bluewings in the Suwon Derby. Everything just seems to be going well!
LV: Yeah, that's it exactly! Yeah, we dominated the game against Suwon Samsung. They didn't create many chances, then they had a shot off-target that was deflected by our defender and went in. But even then we didn't give up and you see that in the last 10 minutes. Our condition and belief are very good and then we turn the game around and we win the Suwon Derby.
MB: Suwon look like they could be away from danger come the end of the season. I asked you last year, how would you rate that team then? And how would they fare if they were in the K League 1? At that point, you said they would stay up if promoted. And obviously, Suwon look even better this season. Have your targets at the club changed this season?
LV: No, our target is still to stay in the K1. Yes, it will be very nice if we end in the top six because then you're safe already before the split. But yeah, we have a great start after the break but we still need to give the same mentality and same focus every game and it's now going well the last two games but if you lose a few games it's still very close with the bottom. We made a good start and it's a little bit difficult to watch to the table at the moment because the games [played] are not even. So we need to focus on ourselves and if we show this mentality and keep this focus every game, I have good confidence that we will be safe. Hopefully soon.
MB: We spoke last time about the manager Kim Do-kyun. After a year of playing under him, what's he like to play for and more importantly, what is his footballing philosophy?
LV: Yeah, he's a real open person. I don't want to say he's like a typical Korean [manager]. We have a lot of conversations. If I have something where I don't agree with him, I can go to him and we have a really open relationship. At the beginning of the season, we were struggling a little bit and we had some negative conversations. But yeah, of course now everything is going well and I like a coach like him where you can go to and have a conversation or he is asking about my family. So he is really an open person and I think he's a good coach and is still quite young. I think it's his second or third year now as a professional head coach. So yeah, I think he's doing a great job.
MB: It certainly seems to be that way on the pitch and on the pitch Suwon have got some of the best attacking statistics in the league at the moment. How much does the footballing ethos at Suwon FC differ from the clubs you've played for in the past?
LV: I think every team has something of their own so it's hard to say what is different but I think the combination we have this year, the group is really close together. We have good team building so everybody can do well with each other and, like I said, the coach is really open so he loves to talk with the players. Yeah, we've been negative to each other, but we always know, in the end, it's because we want to get better and better every time, even after the Ulsan game now. Yesterday, we had the video meeting and of course, we can show many good video clips of the game, but we also take the negatives because we still want to learn and still want to improve to get better and better.
MB: How has your role evolved because last year you came in perhaps to support An Byung-jun, who was leading the striking charts in K League 2. This season your are the main scoring outlet. How's your position evolved do you think?
LV: Yeah, last year I knew An Byung-jun was doing very well and, what I mentioned before, I was not 100% fit so I was accepting of that role and I knew the second year needs to be my year. I did the surgery in December and then I came back in February to Korea. Then I was a little bit struggling but I knew the coach wanted to play me as soon as possible and yeah, that gave me a lot of confidence, but I was not ready when the K league started, so I needed some more time. Now I show I think I'm the number one striker and the coach gave me the confidence as well. If I can imagine the Gwangju game at home, we had a very tight schedule and I was not playing very well but he put me in the game for 90 minutes and then we score again in the last 10 minutes. I gave a goal and assist. Some other coaches maybe change the striker because they think "Oh, he's tired" or he doesn't play a good game, but he kept me in for 90 minutes and gave me the confidence and that is helping me a lot.
MB: I was gonna talk about the mentality of overcoming such a lengthy injury because you had the injury just before the beginning of last season. COVID was getting worse at that point and you we're a new player to the country. How much has your mentality changed over this last year and a half?
LW: A lot. I never had an injury before so let first of all was new for me. I was on the other side of the world. I was at Jeonbuk, the biggest club, and I was looking forward to the start. Then, in the last practice match, my knee was not feeling good. So yeah, it was really hard. I was on the phone with my mom and I started crying and I told my mom, I really don't know what to do. And yeah, that was really a tough time. But also, these kinds of things make you as a person and like the last year without my family, without my children, has given me a different mentality and I learned so much and I learned to be on my own for such a long time and it made me a different person.
MB: This season, you've been reunited with one of your former teammates in Murilo. He seems to have taken to life at Suwon FC really well with seven assists. How much of a difference has his arrival had at the club?
LW: A lot. I knew Murilo from my time with Jeonbuk and I was really happy when the club told me they were trying to sign him. They asked me some things about him like how he is as a person and he's really a fantastic player but also a fantastic person off the pitch. I'm really happy that he joined the club and we work very hard together and we speak a lot about football and our families and all of these things. We are really close and I think you can see that on the pitch as well.
MB: Going back to the season as a whole and what are your personal goals for this year?
LW: Yeah, I had them before the K league started. I won't tell my personal goals in numbers, but I'm on a good way to get my goals. I'm almost there. So yeah, for me, it's like, I've almost reached my goals already, what I would have targeted before the K League started, but for me, it's most important that I stay fit the whole year and that we do well with the team. It will be great if we finished in the first six. I think then we will have done an amazing job. I just hope to continue. Like enjoying how we play and of course with goals and assists.
MB: I hope you achieve them. Finally then, do you have a message for the Suwon FC fans?
LW: Yeah. I feel sorry that the stadium is closed again, for fans. We go into a tough situation again with Corona, so I hope the fans will support us from home, stay safe and healthy. We're going to show them hopefully again on Wednesday [against Jeonbuk], the flow we are in and the mentality we have now. We want to make them proud from home. I hope I can visit them soon in the stadium.
Matthew Binns