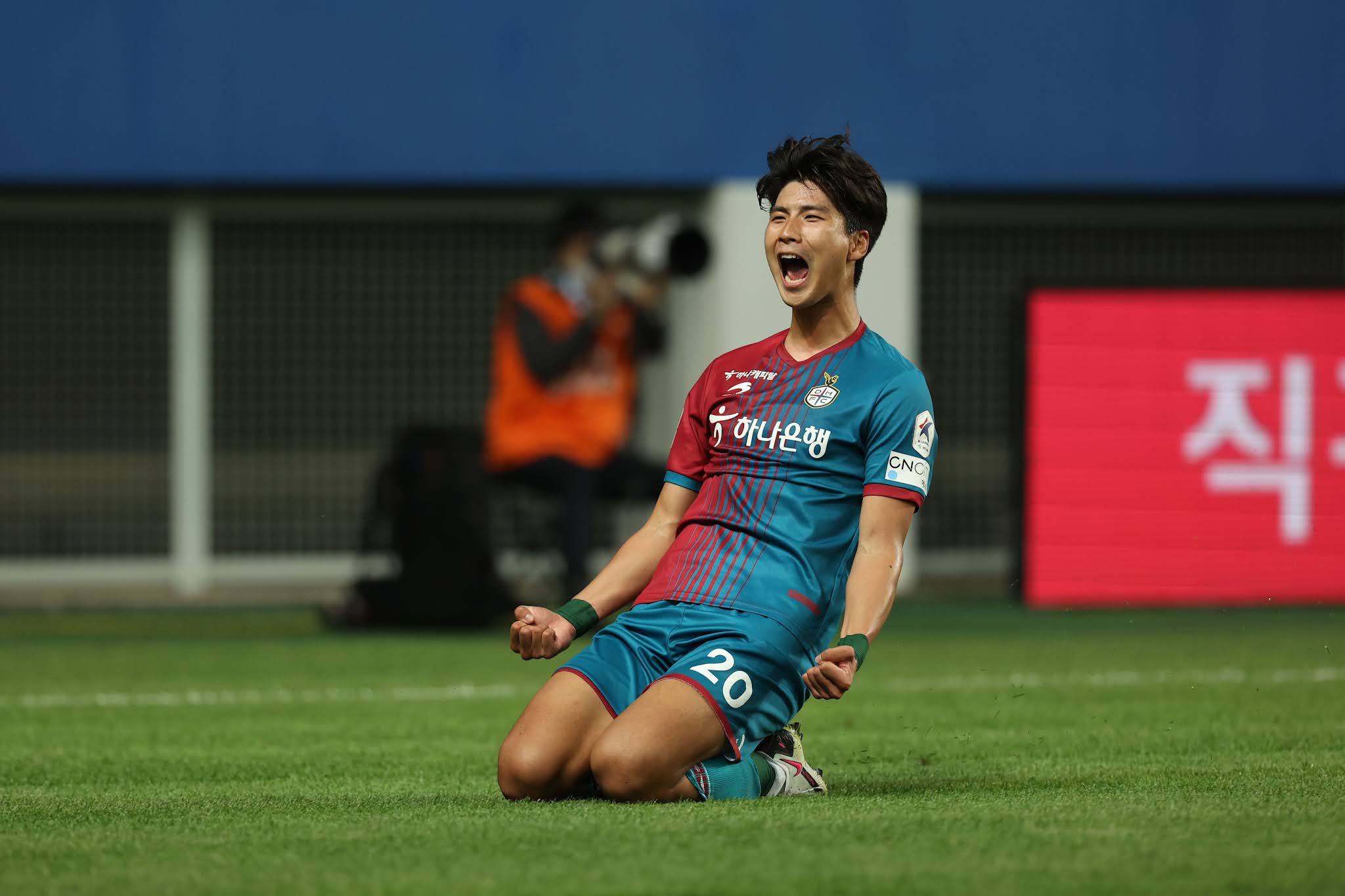 Daejeon Hana Citizen's Player of the Month for July is forward Park In-hyeok, a player who scored his sixth goal of the campaign in a crucial 2-1 win over fellow promotion contenders FC Anyang. While Park is on course to set a personal goal-scoring best, he believes that concentrating on the team's goals is the priority and that any personal targets will follow naturally if the team are working toward the collective target of reaching the promised land of K League 1.


How would you assess your own start to the season?
"If I was to give myself a score then maybe 50? That's because there have been a lot of goals that I should have scored which I didn't. If in future I could fill that part in then I should be able to give myself another 50 points."
You have scored a lot of headed goals in your career so far, two of your six goals this year have also been headers. Is this something you work on in training?
"Personally, I am confident in my ability to jump. To be able to head accurately, it's all about positioning and the point of impact on the head - those are the most important things. In games, I am trying to focus and concentrate on the ball. To be able to get the timing right in set-piece situations, we have been reviewing mistakes in real-time during training and making a concerted effort to improve on certain things."
You already have six goals, that's more than in 2020 and 2019 combined and nearly equalling your personal best of seven in 2018. What's different about this season compared to others?
"I think because last season I don't think I was quite good enough, I have been more determined this season, and to take it one game at a time. I want to do my best and help the team. Also, everyone at our team is coming together to try and achieve the shared goal of reaching K League 1. I'm doing my best to make sure I am helping the team, it would have been impossible to get the results without teammates helping each other."
You have had a new squad number every year since joining Daejeon - 64 in 2018, 9 in 2019, 17 in 2020 and now 20. Is there a reason behind this?
"At first, I used to like having the same number as my age but I wasn't able to do this. The numbers I chose don't have any particular special meaning. This season, (Lee) Hyun-sik chose 17 so I decided to have 20 instead. I know I need to keep improving but I have been able to perform well while wearing 20 so I think I will choose this number again after this season too. I'll keep trying to do my best so that number 20 is a lucky number for me."
Has last year's disappointment made you more determined to succeed?
"Of course, it has motivated me a lot. More than anything, though, I was particularly sorry that I wasn't able to be of help to the team. So, each game [that I play] is even more precious to me. I worked as hard as I could during pre-season in winter. The manager worked us hard too but I personally trained hard so that I can put in good performances during the season."
What's the atmosphere like in the squad at Daejeon this season? How does it compare to other seasons?
"Together, over the same period of time, the players have worked hard in training and have been able to rely on each other and so we have built up a good rapport. Plus, at the moment, with this run we're on, the atmosphere can't not be good. I think there has been a positive effect because with us all working hard, we have looked after each other and there has been a good synergy on the pitch."
What is Lee Min-sung like to work with?
"He is someone who usually tells a lot of jokes and tries to be friendly with the players. But on the training ground and on match days he is very strict. I think that's to make sure that we are concentrating on the game fully or aren't giving off a disorganised appearance. I think that's why I can concentrate more in games."
Finally, what are your targets for the rest of the season, both individually and as a team?
"The team's goal is to win automatic promotion and so I think personal achievements will follow naturally if we are all doing everything we can to make sure we do win promotion. I'll do my best."
Paul Neat
Managing Editor
Twitter: @NeatPaul