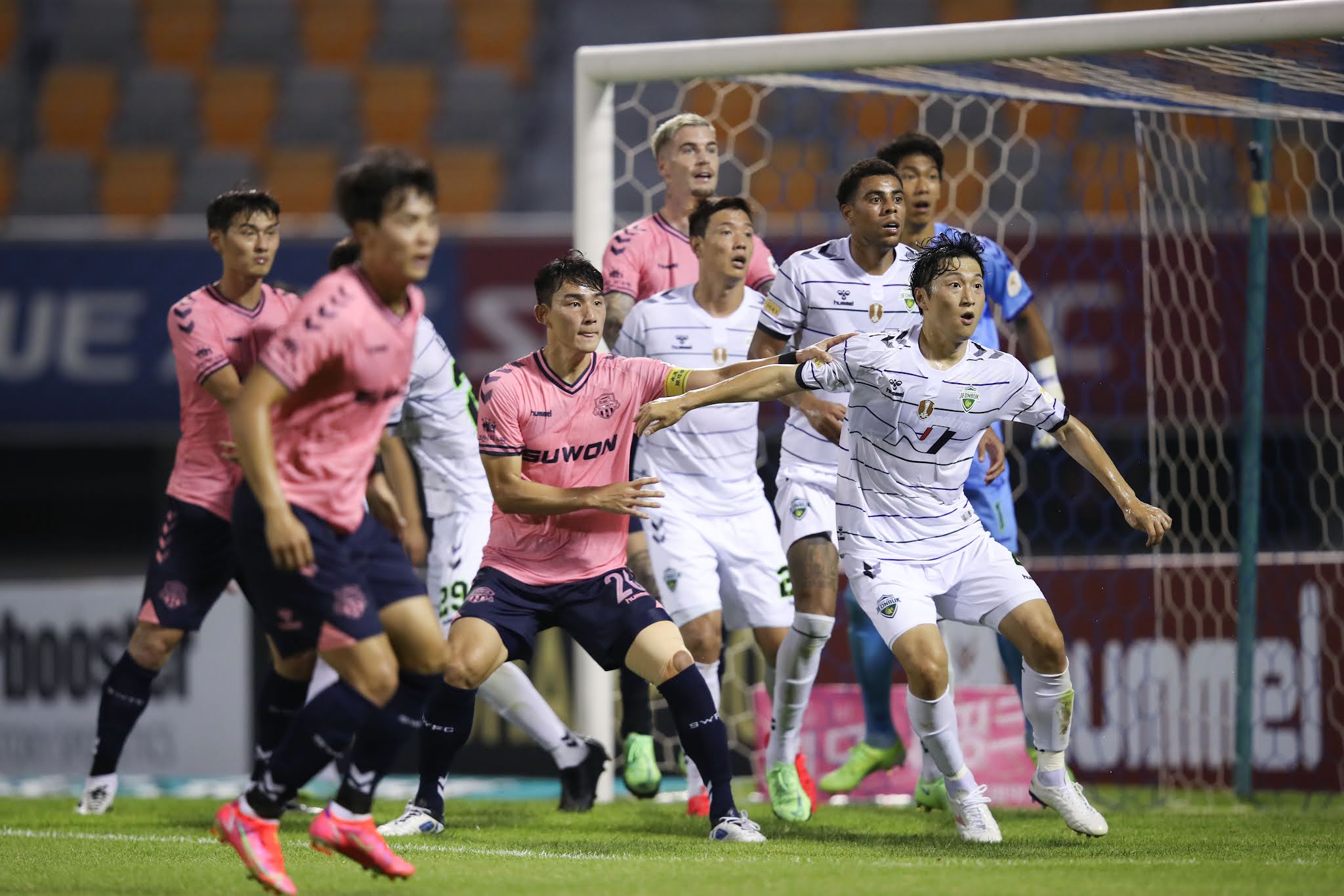 As we get closer to the finishing line, Round 28 of the 2021 Hana 1Q K League 1 season brings five games as Gangwon FC's fixture has been postponed due to a positive COVID-19 case within the squad. First, Pohang Steelers look to fight for a place in the upper half of the table as they face Suwon Samsung Bluewings, Daegu FC take on Seongnam FC and the second team in the table will meet the third as Jeonbuk Hyundai face Suwon FC. On Sunday league-leading Ulsan Hyundai take on Incheon United and Jeju United face a relegation-threatened FC Seoul.
Match of the Round
Jeonbuk Hyundai Motors (2nd) vs Suwon FC (3rd) - Sat. August 28th, 19:00 KST
Jeonbuk Hyundai will be looking to keep pace with league-leading Ulsan Hyundai this Saturday and take all three points when they face Suwon FC. Since the last clash between these two teams, Kim Sang-sik's side has been unbeaten with four wins and a draw. The K League title holders look strong, especially in front of the opponent's goal with strikers Gustavo and Stanislav Iljutcenko in good form. Last week Jeonbuk managed to get a win 2-0 against Pohang Steelers.
Suwon FC has also been in a good form recently with only one loss in the last nine matches including a 3-0 victory over cross-town rivals Suwon Bluewings. They climbed to third place in the table. Kim Do-kun's side is one of very few teams who have managed to stop Jeonbuk in the last two months, picking up a 1-0 win at the beginning of August - new recruit Tardeli with the game's only goal. This upcoming match looks exciting especially from the attacking perspective – with Iljutcenko and Gustavo at Jeonbuk and Lars Veldwijk at Suwon FC. Veldwijk is now the leading goalscorer in K League 1 this season with 14 goals. Having played for Jeonbuk last year he will try to prove himself in front of the Green Warriors' fans.
Team of the Round
Incheon United (vs. Ulsan Hyundai, Sun. August 29th - 18:00 KST)
Incheon United has been one of the best teams in the K League 1 since it returned following the ACL break. With five victories in the last seven games, they look to push for third place as the current season slowly enters the final stage. Midweek saw their impressive victory over Daegu FC, winning 2-0 with goals from Song Si-woo and a stunning free-kick from Elías Aguilar. Thanks to their outstanding form, Incheon have moved up the table from the bottom half to the fourth place. This weekend Jo Sung-hwan's side faces perhaps their toughest challenge so far as they take on league-leading Ulsan Hyundai. The Horangi have also looked dominant in their last few outings. This season, Incheon and Ulsan played each other twice, the first match ended in an Ulsan victory and the last one resulted in a goalless draw. However, the current form of both teams suggests that this weekend's match may turn out to be something of an enthralling one.
Player of the Round
Ki Sung-yueng (FC Seoul, vs. Jeju United)
FC Seoul's captain has been one of the most important players for his team. The experienced Korean midfielder has scored three goals and assisted one in 22 games this season. He is able to control the pace of games and his versatility in the midfield helps Seoul to keep composure. Ki Sung-yueng averages over 50 passes per 90 minutes and his ability to build attacks was clear to see last weekend against Ulsan when he came off the bench after the break. In the second half, FC Seoul dominated Ulsan and almost drew the game in which they had already been two goals down. This weekend Ki and Seoul make the one-hour flight to Jeju Island in search of a first win of Jeju United since August 2018.
K League 1 Round 28 Fixtures
Friday 27th August 2021
#GANvGWA
: Gangwon FC (10th) P-P Gwangju FC (9th) - Postponed
Saturday 28th August 2021
#POHvSSB
: Pohang Steelers (5th) vs Suwon Samsung Bluewings (6th) - 18:00
#DAEvSFC
: Daegu FC (7th) vs Seongnam FC (11th) - 19:00
#JEOvSUW
: Jeonbuk Hyundai Motors (2nd) vs Suwon FC (3rd) - 19:00
Sunday 29th August 2021
#ULSvINC
: Ulsan Hyundai (1st) vs Incheon United (4th) - 18:00
#JEJvSEO
: Jeju United (8th) vs FC Seoul (12th) - 19:00
Where to Watch
Fans in countries with K League overseas broadcasting rights can follow the game live on television. More information can be found
here
.
Alternatively, the matches are also available for FREE on
tv.kleague.com
KLeague.com Contributor