The most recent Suwon Derby from the tail end of June ended in a comprehensive 3-0 home win for Suwon FC at the tail end of June thanks to goals from Murilo, Jang Hyeok-jin and Lee Seung-woo. The Bluewings won the first meeting, sealing a 1-0 victory in Round 2 back in February courtest of a Park Hyung-jin goal in the 22nd minute.
There's usually a winner in this fixture as only one of the previous 10 K League Suwon derbies has ended in a draw - a 0-0 stalemate in March 2021. There are usually goals too with, on average, 2.4 per match over the last five encounters and three per match overall. Some of the more high-scoring derbies include a 3-2 Bluewings win in October 2016 and a 5-4 Suwon FC win earlier that same month.
The match has been chosen for overseas broadcasting, check local listings for more information. Alternatively, the Suwon Derby is also available LIVE, for FREE and in HD on
TV.KLeague.com
.
Team of the Round
Gangwon FC (vs. Pohang Steelers, Sat. 6th August - 19:00)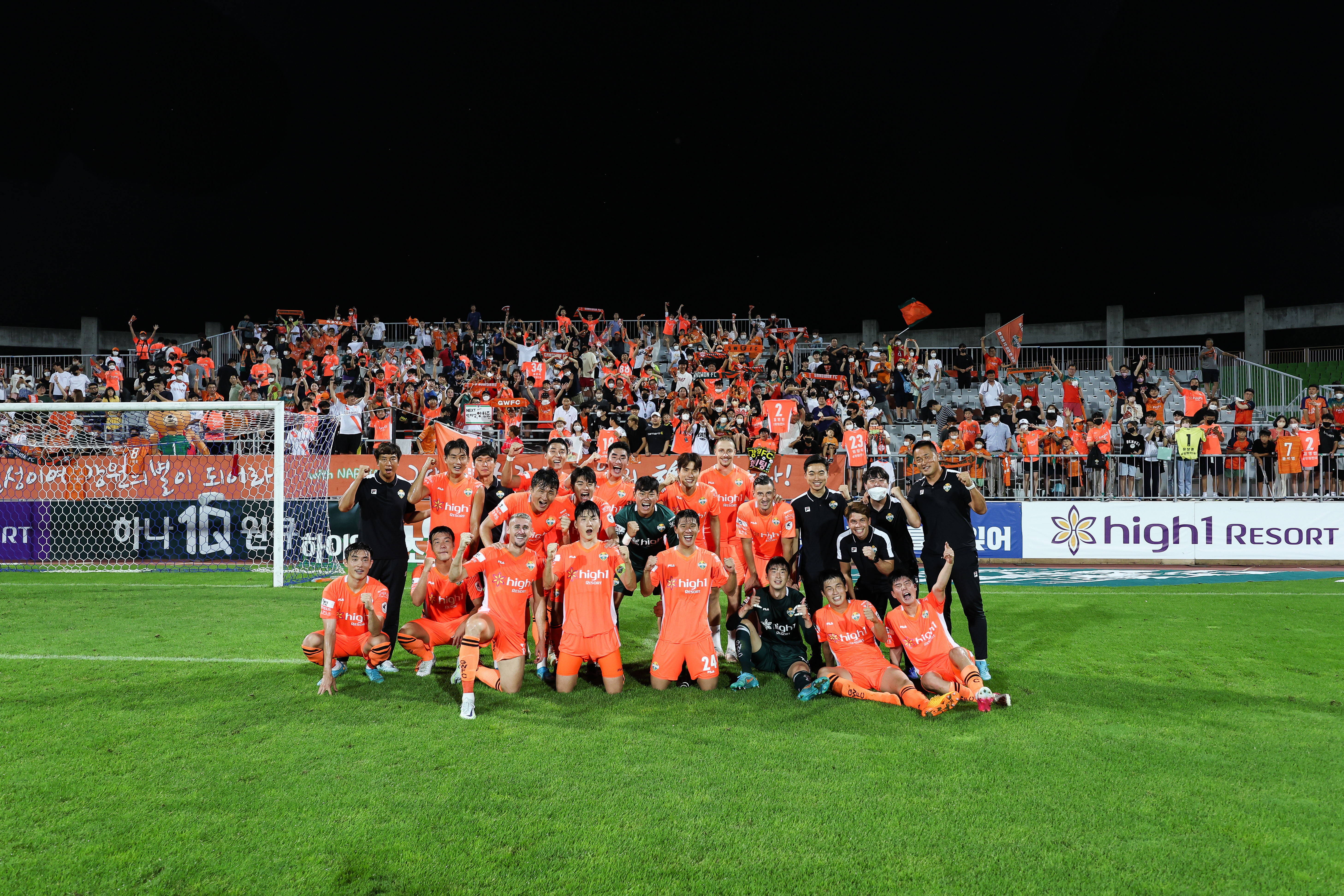 Gangwon FC have shot up to seventh in the table following Wednesday's 2-1 win over reigning champions Jeonbuk Hyundai Motors. Wonderkid Yang Hyun-jun scored the game's opener on 53 minutes, turning in a wonderfully weighted Kim Dae-won cross, before Hwang Moon-ki sealed the win two minutes from time. Choi Yong-soo's side are now locked on 30 points with Suwon FC and FC Seoul heading into the weekend's fixtures and are only four points behind Jeju United in fourth. What's interesting about Gangwon this season is that, with 33 goals, they have the fourth-best attack in the division but rank ninth for the number of shots dispatched and eighth for accuracy and are performing. above their xG of 27.96. This weekend they take on a Pohang Steelers side which sits third and on course for ACL qualification.
Player of the Round
Stanislav Iljutcenko, FC Seoul (vs. Jeju United, Fri. 5th August - 19:30)
Another goal for Stanilslav Iljutcenko for FC Seoul on Tuesday night helped his team extend their unbeaten run to three. For the big striker, it was his second since joining the club and his third goal involvement. At the Munsu against Ulsan Hyundai, Iljutcenko showed great predatory instincts to pounce on a loose ball in the box and tuck it away from close range. It was the only chance that he had but the only one he needed. It was also the only touch he had in the box. Throughout the 51 minutes he was on the pitch, the former Pohang and Jeonbuk striker won 75% of his offensive duels, and needed just one touch in the box and one chance on goal to score. This Friday night FC Seoul take on Jeju United, a side which lost to Seongnam FC last time out and have just one win in their last five.
Where to Watch
The Suwon Derby on Saturday as well as Jeonbuk Hyundai Motors versus Ulsan Hyundai on Sunday have been chosen for overseas broadcasting. Check local listings for details.
Alternatively, all matches are available LIVE, for FREE and in HD on
TV.KLeague.com
.
K League 2 Round 27 Fixtures
Friday 5th August
#SFCvGIM
: Seongnam FC (1st) vs Gimcheon Sangmu (2nd) - 19:00
#SEOvJEJ
: FC Seoul (1st) vs Jeju United (2nd) - 19:30
Saturday 6th August
#POHvGAN
: Pohang Steelers (1st) vs Gangwon FC (2nd) - 19:00
#SuwonDerby
: Suwon FC (1st) vs Suwon Samsung Bluewings (2nd) - 19:30
Sunday 7th August
#JEOvULS
: Jeonbuk Hyundai Motors (1st) vs Ulsan Hyundai (2nd) - 19:00
#DAEvINC
: Daegu FC (1st) vs Incheon United (2nd) - 19:00