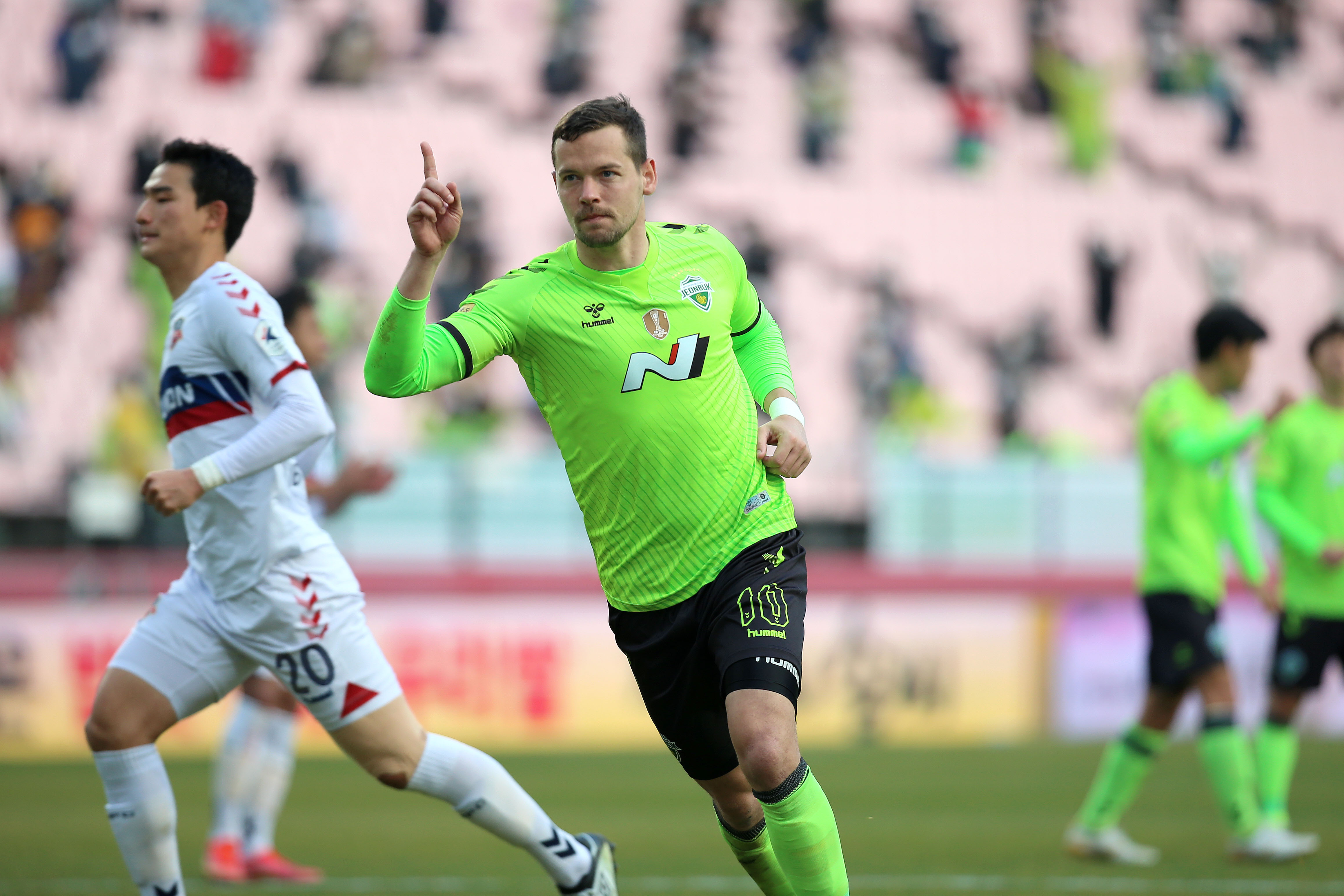 Having made the switch from Pohang Steelers to K League Champions Jeonbuk Hyundai Motors, striker Stanislav Iljutcenko has been enjoying his football both in Jeonju and, for the first time, on the continent in the AFC Champions League. With the Green Warriors set to take their domestic title rivalry to Asia's biggest stage this Sunday evening when they face the competition's current title holders Ulsan Hyundai in the quarterfinals, Iljutcenko sat down to answer a few questions ahead of the clash
Matthew Binns: You joined Jeonbuk at the start of this season from Pohang Steelers, and you have already found the net 12 times in the league. Is it safe to assume you're enjoying life at Jeonbuk so far?
Stanislav Iljutcenko: Yes, we're happy here. Everything's good. To be honest, we don't have so much time to enjoy life because of the tight schedule with K League and the AFC but everything is good and we are happy.
MB: This season has seen you join up with Choi Young-jun who was on loan at your former club Pohang, as well as Song Min-kyu who arrived in the summer. What is it like to be surrounded by familiar faces in the squad?
SI: It's always nice to play with players that you have played with before or which you've known a long time. Young-jun and Min-kyu I know from Pohang and we had a great time at Pohang and now we can have a great time here at Jeonbuk.
MB: This is also your first season in the AFC Champions League. Which sides have impressed you so far?
SI: I think because of Corona, it's special this year in the Champions League. We travelled to Uzbekistan and played the group stage there. Now all our games will be here until the final in Jeonju, Jeonbuk and it's a new experience. New teams from different countries. I think so far we did a good job. Everything is going like our plan is.
MB: Is there a notable difference in playing styles between K League sides and other AFC clubs you have faced?
SI: Yes, definitely. In the group stage, we had one who was perhaps a little weak, or weaker than the K League to be honest. But we also played against a Japanese team who clearly had quality but which we could beat and win the group stage.
MB: One battle many are looking forward to you resuming is that with Ulsan centre-back Dave Bulthuis. Not only have you played against him for Pohang in the East Coast Derby, the pair of you have also lined up against each other in Germany when you were at MSV Duisburg and he was at Nürnberg. What is he like to play against and do you see him making it difficult in the quarter-final?
SI: Definitely. I think we have a good relationship. We played many games against each other. I think I know him well. I think he knows me well. Of course, he's a good centre-back in the K League. Maybe one of the best. I think we will have a good fight in the match, like always. I hope it is a better end for our team.
MB: Jeonbuk have played Ulsan three times this season and are still to find a win. What are the biggest concerns you have with Ulsan's playing style?
SI: It's difficult to say. I think this match against Ulsan is always a 50-50 match. Two teams who have a lot of quality and I think every team can beat the other team. Now in the AFC quarterfinals it will be a 50-50 match. We play at home at our stadium. Of course we want to win this game and I hope we will win.
MB: Is there any benefit to playing a K League side in this competition or would you rather have faced a team from a different league?
SI: It is difficult to say. In my opinion, if you want to win the AFC Champions League you have to beat every team. You must beat every team that you face and it doesn't matter who you play. Against Ulsan or against any other team. I think all teams who are now in the quarterfinals are strong so I think there's no difference. Of course, they are big rival of us, Ulsan, in the K League. We will see. If you want to win the Champions League, you have to beat everybody.
MB: Final question, can Jeonbuk make it to the AFC Champions League final?
SI: Yes, of course, we can. We have a lot of quality in the squad and if we can bring our quality onto the pitch then we will be sure to be one of the candidates who will be in the final this season.
Matthew Binns